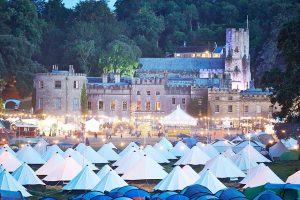 At the end of last month I was at the Port Eliot Festival, which is a four day bonanza, combining books, food, music, art, comedy, fashion, films, flowers, wildlife and water. Just a few miles to the west of Plymouth, the festival site encompasses the woodland gardens and parkland of the Mansion house of Port Eliot, set in several thousand acres of rolling Cornish countryside, alongside the idyllic tidal estuary of the River Tiddy.
The eccentric nature of the festival is a reflection of the singular history and character of Port Eliot itself. Inhabited since the Bronze Age, the estate has housed Augustinian monks, survived confiscation by Charles I's Court of the Star Chamber and was apparently declared the most beautiful place in England by Napoleon. Next to the mansion house is the a mediaeval former monastery (the original Cornish cathedral), now the parish church of the adjacent village of St Germans.
Although there are several other large festivals in the UK, The Port Eliot Festival remains a rare original, an event attracting well over 30,000 people, plus about 500 staff, helpers, stewards, chefs, performing artists and of course those stall holders who come to sell their wares at the festival, like me. There were 18 stages and other "venues" to entertain and involve the sell-out audience.
Many of the "punters" come from London as it's so easy to get there by train, the adjacent station of St Germans being on the main London to Penzance line and but a short walk from the festival venue.
Camping at Port Eliot is memorable, as I can attest, particularly in adverse weather conditions! Over a thousand tents are pitched in several camp sites, ranging from the mundane (mine) to Bell tents, Tipis and Yurts – or even some gypsy bowtop caravans. At the real luxury end you can even rent a silver airstream caravan. Or you can come with your own camper van, as many do – a very sensible option.
Having worked at the festival for several years as a steward, last year I thought I would like to bring Alexander's discovery to Port Eliot. The deal was that I would take a "pitch", teach the Alexander Technique in my teaching space, and give a 45 minute (free) workshop.
To make sure I got a decent pitch, I arrived on Thursday morning and set up my teaching tent in Lark's Haven. The festival site is large, and Lark's Haven is at one end, right by the river and opposite the hot tubs and beside a thriving bar and music venue which attracts a large crowd especially at night. I was able to pitch my tent in the Crew Camping which is just under one mile away, so hardly a hop and a skip.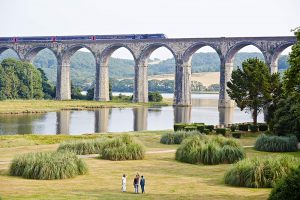 My allocated teaching area was between two triffid-like plants, the sharp leaves of which proved to be quite poisonous as I discovered. There had been spring tides earlier in the week, and Lark's Haven site had been partly flooded but the small patch I was on was relatively dry.
And the weather was challenging. The previous week it had been wet, and the forecast was for mixed weather, although there were reports on the web about a "family of low's" coming across the Atlantic so I was not unduly surprised to see rain and variable winds …
I had hoped I would be a bit sheltered from the wind, which even at the start was quite fresh. I was over optimistic. I found myself in a wind tunnel, which was not good news as my very light weight teaching space became unstable and indeed unusable.
In a lull between squalls, I did give a lesson to two American visitors, and that proved to be an interesting experience for all three of us. They took it in good heart – and paid!
The punters turned up to the festival in their thousands despite the weather, which I suppose had something to do with the fact that all of the tickets had been sold in advance. But the extraordinary spirit of the festival goers was evident everywhere – from small children playing in the mud, to welly-clad folk of all ages, absolutely determined to have a great time, whatever.
But only a small percentage found their way to Lark's Haven, partly because the access track became a muddy quagmire. Wellies were an essential fashion accessory over the whole festival site.
The Alexander Technique workshop I gave on Saturday morning proved to be a great success. It was flagged up as a part of the main programme and held in a large, secure tent a bit like a circus Big Top. Over 40 participants came and we had a lot of fun. Thanks to Jeremy's sessions on teaching groups and Imogen's advice on games, the 45 minutes passed quickly and many of the participants said how much they had enjoyed it. I was really pleased that so many people turned up and it was definitely the high point of the weekend for me.
But my hopes of bringing Alexander's Discovery to Port Eliot were largely dashed by the weather. With a heavy heart I decided to pull out early, and dismantled my teaching tent before the weather did that for me. And so did several other participants in Lark's Haven.
With the benefit of hindsight, my situation would have been better, had I brought a more substantial structure to teach in, but the end result would have been much the same I think.
Although the Festival was scheduled to end on Sunday evening, I reckoned that an "exfil" would be easier if carried out much sooner. All of the connecting tracks on the Festival site were at best muddy and in parts all but impassable. And the situation was getting worse by the hour.
We managed to strike the teaching space and withdraw all of the kit to the camp site on Saturday evening. By Sunday morning, we could see the challenge we faced in order to escape from the Crew Camp Site. There was one very muddy but just about usable gateway through which several hundred campers would soon need to pass. We just got out by the skin of our teeth, before the rest had to be pulled out by tractors.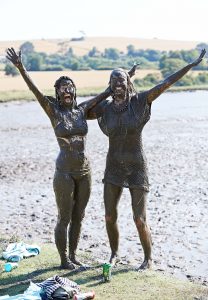 So that was Port Eliot Festival 2017.  A big adventure and lots of lessons learned.
Onwards and upwards!