When Susie and I were out walking one morning this is what I saw. Down there under the fog, it was quite dark, and you couldn't see much. But up here, the view was spectacular, in bright sunshine.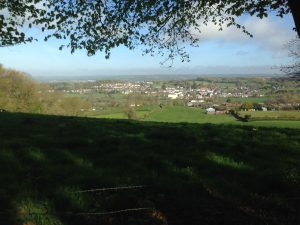 Get the fog out of the way and what do you see? Yes, it's the village of Uffculme, taken from the same spot on the edge of the Blackdown Hills, near here. The village was there all the time, of course, just hidden by the fog.
You and I, we're much the same. If held back by tension we don't need, we cannot operate properly. If that tension is in our minds, for sure it will manifest itself somewhere in the rest of us – the way we walk, perhaps, or a migraine, or an aching back, or neck or shoulders, or something else.
An injury often upsets our balance and before long we have unwanted tension throughout ourselves, including our minds. Quite often, we don't realise what's going on in us, and then we start to hurt.
What to do?
If you can learn to get out of the away of what's causing the tension, the real "you" will begin to appear, and then things will start to change…
But it's very very difficult to do that on your own, which is where I come in. With my help, and using Alexander's discovery, I can show you how to get rid of the excess tension – and for you to be in the driving seat again.
– 0 o 0 –
I am now running group workshops in the Mid Devon area, so if you're interested, fill in the contact form opposite, so that I can get in touch with you :-))
I look forward to that – onwards and upwards!